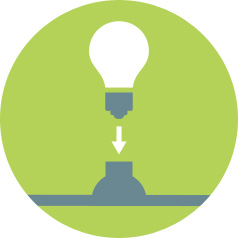 Setting Reliability Standards
The Federal Energy Regulatory Commission (FERC) and the North American Electric Reliability Corporation (NERC) are responsible for protecting the reliability of the high-voltage interstate transmission system in the United States through setting, approving, and enforcing mandatory reliability standards—for example, through civil penalties. The Northeast Power Coordinating Council, Inc. (NPCC) sets and enforces standards for the Northeast region of the US.
FERC's Authority
FERC is an independent government agency organized as part of the US Department of Energy. Its purpose is to regulate interstate transmission of electricity, natural gas, and oil, as well as to regulate hydropower and natural gas projects, to help consumers get reliable, efficient, and sustainable energy services at a reasonable cost. FERC's responsibilities related to electricity are defined in Section 215 of the Federal Power Act. FERC gives final approval of the federal reliability standards set by NERC.
NERC's Role
In 2006, FERC selected and certified NERC, a not-for-profit organization, to be the Electric Reliability Organization (ERO). The ERO is in charge of establishing and enforcing reliability standards for the US power system. NERC plays a similar role in Canada, making it subject to oversight from both FERC and Canadian governmental authorities. NERC's standards became mandatory and enforceable in the US for the first time on June 18, 2007, following FERC Order 693.
NOTE: While NERC has responsibility for developing reliability standards, the North American Energy Standards Board (NAESB) is responsible for developing business practices and coordination between reliability and business practices.
NPCC's Role
NERC delegates authority to monitor and enforce compliance with reliability standards to eight regional entities. NPCC is one of these, covering the six New England states, as well as New York and the Canadian provinces of Ontario, Québec, and the Maritime provinces of New Brunswick and Nova Scotia. NPCC is authorized within its region to enhance the reliability of the interconnected power system in northeastern North America by:
Assessing reliability
Creating specific regional reliability standards to support NERC reliability principles and standards
Monitoring and enforcing NERC standards among all users, owners, and operators of the power system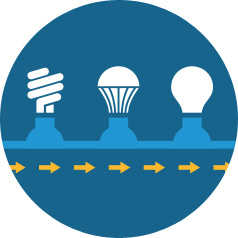 Developing Reliability Standards
NERC reliability standards are continually evolving to keep pace with technological and regulatory changes. Existing standards are assessed and revised, and new standards are developed when necessary. You can read about new developments in NERC's weekly standards bulletin.
Each of the reliability standards set by NERC is developed to support at least one of the reliability principles that form the foundation of North American power system operations. Each must also remain consistent with all of those principles to avoid unintentionally undermining reliability. Together, the NERC standards help deliver an adequate level of reliability, as defined by specific power system characteristics, such as operating within acceptable limits, limiting the scope of cascading outages, and prompt restoration following an outage.
To ensure qualities such as transparency, open participation, and consensus-building, NERC's Rules of Procedure carefully outline how standards are created. Here's a brief overview:
1. Development
A committee manages the process for standards development or revision. The Standards Committee is made up of members of the registered ballot body: entities (such as RTOs, transmission owners, etc.) that are materially affected by NERC standards and are registered with NERC as potential ballot participants. See NERC Registered Ballot Body Criteria (Appendix 3D).
The Standards Committee appoints a drafting team made up of industry experts who work with stakeholders to develop and refine standards.
Interested members of the registered ballot body vote on the standard or revision to determine if there's sufficient consensus to approve it.
2. Board Adoption
Reliability standards or revisions approved by the ballot pool are submitted for adoption or approval by the NERC Board of Trustees.
3. Governmental Approval
If adopted or approved by the Board, a reliability standard or revision is submitted to applicable governmental authorities: FERC in the US, and where permissible by statute or regulation, Canadian provincial governments and the National Energy Board of Canada. In the US, FERC may issue a Notice of Proposed Rulemaking (NOPR) to request industry comments before ruling on the standard:
FERC documents issued with the prefix "RM" usually indicate that the industry is asked to comment on a standard prior to FERC issuing approval.
FERC documents issued with the prefix "RD" generally indicate FERC is approving a standard without further industry comments.
Consult the NPCC website for the latest standards and standard development process.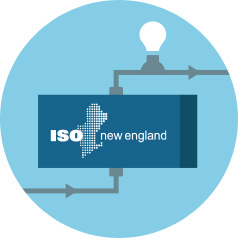 Ensuring ISO Compliance with Reliability Standards
Applicable NERC Standards
NERC registered entities fall into 15 groupings, categorized by the different industry functions required to ensure the reliability of the electric system. The ISO must comply with NERC reliability standards relating to each of the nine functions that the ISO is registered for with NERC:
Balancing Authority (BA)
Interchange Authority (IA)
Planning Authority (PA)
Reliability Coordinator (RC)
Resource Planner (RP)
Reserve Sharing Group (RSG)
Transmission Operator (TOP)
Transmission Planner (TP)
Transmission Service Provider (TSP)
To learn more, see the NERC Reliability Functional Model and the NERC Statement of Compliance Registry Criteria document.
ISO's Compliance Group
Given the number of functions and related standards the ISO must follow, ISO New England has a dedicated Reliability & Operations Compliance (ROC) group who work full time to:
Stay abreast of new or revised standards
Communicate requirements to the affected ISO departments, such as System Operations, and stakeholders
Assess and document ISO compliance with standards
Carefully document actions and other efforts related to compliance with standards
Work with regulators during audits
Work with ISO departments to continuously improve processes to ensure compliance
Compliance Interpretations and Bulletins
The ISO's ROC group provides guidance to New England transmission owners and market participants by working with NPCC to publish Corroborating Evidence Interpretations and Compliance Guidance (CEICG) statements. CEICG statements are reviewed and agreed to by NPCC auditors and used by NPCC auditors to:
Determine the applicability of the requirement(s) of certain NERC standards to a given registered entity
Assess the compliance of that registered entity with the applicable requirements
The ISO also provides useful information to transmission owners and market participants using Compliance Bulletins for specific standards. For example, the ISO Compliance Bulletin for MOD-025 details how generator owners and transmission owners can provide required information to the ISO as a transmission planner, even though the standard does not specifically apply to the ISO in its NERC functional roles. (Note: ISO compliance bulletins are not coordinated with NPCC auditors and do not supersede NERC standard requirements.)
Compliance Assessments
ROC team members also review the ISO's compliance with applicable NERC standards and develop narratives describing how the ISO complies with these standards. Those narratives are incorporated into NERC's Reliability Standard Audit Worksheets (RSAWs).
ISO Performance
In 2018, NPCC recognized the ISO for excellence in its Operations and Planning Compliance Audit, which assessed 15 requirements of 11 NERC Standards related to power system reliability. Auditors concluded the ISO was compliant with all standards and made significant positive observations.
Regulatory Compliance Reviews
The ROC group provides information for reviews performed by NPCC Compliance Enforcement to ensure that the actions of ISO New England, like other industry entities, are in accordance with applicable standards:
Rigorous periodic audits—At least every three years, NPCC audits the ISO for compliance with NERC standards. NPCC auditors may be accompanied by NERC or FERC reviewers during the week-long audit process.
Spot checks—NPCC can conduct random reviews of selected standards at any time. Spot check reviews are generally performed off-site by auditors checking documentation.
Self-certification—The ISO must complete an annual process to certify that it meets selected NERC requirements.
Self-reporting—The ISO's policy is to strongly encourage prompt self-reporting of violations.
Months of preparation take place prior to formal audits and self-certification. Compliance analysts must work with other ISO staff to prepare supporting documentation, such as RSAWs, study reports, and software screenshots. The ROC team must enter the information in NERC and NPCC submittal systems. And during audits, compliance analysts and other ISO staff must respond to auditor questions.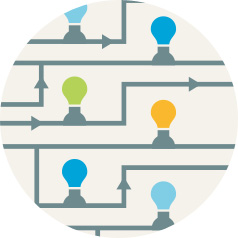 Following Other Industry Standards
Beyond the ROC team and NERC reliability standards, ISO New England must meet other industry standards. For example:
Critical Energy Infrastructure Information (CEII) Compliance
The ISO has standards and protocols in place for protecting CEII, as required by FERC. CEII is specific engineering, vulnerability, or detailed design information about proposed or existing critical infrastructure that could be useful to a person in planning an attack on critical infrastructure. The ISO takes great care to educate its staff on CEII compliance, such as correctly labeling and managing CEII information.
Cybersecurity Requirements
ISO New England's cybersecurity program applies mandatory standards and other best practices toward protecting the New England power system's digital infrastructure from this growing threat. The program complies with NERC's mandatory Critical Infrastructure Protection (CIP) reliability standards, as well as with voluntary standards from the National Institute of Standards and Technology (NIST). The ISO participates in NERC's GridEx cybersecurity exercises involving hundreds of industry organizations, as well as government agencies such as the US Department of Homeland Security.
Contributing to Standards Development
Along with complying with existing standards, various ISO departments may be called on to use the expertise and experience of their staff to help aid in the development of new standards to ensure the safe, efficient, and reliable operation of power systems. Several of these efforts are described in Working toward a Smarter, Greener Grid.