Diversity and Inclusion at ISO New England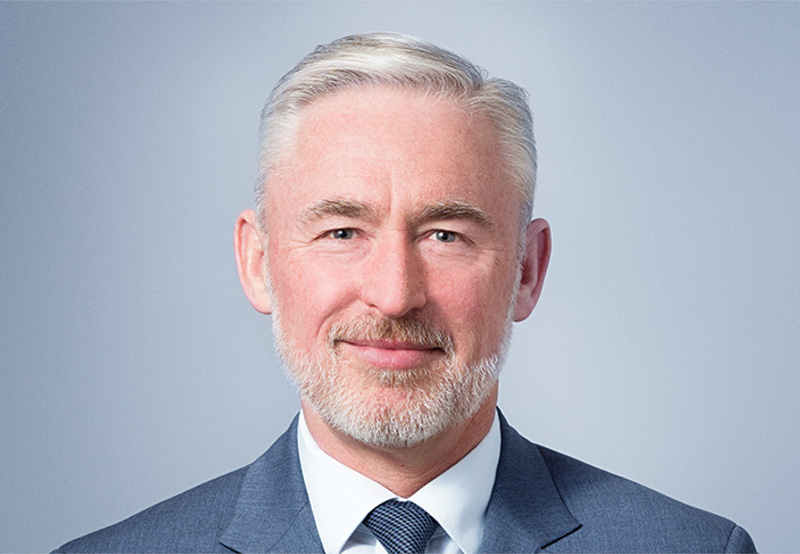 "ISO New England honors diversity and promotes inclusion, knowing that a blend of backgrounds and perspectives raises our work product—and ourselves. Our workforce is indeed a microcosm of the world, so we all bear a responsibility to treat our colleagues with the same concern as we would like to be treated. In that regard, we want to ensure that we have a welcoming work environment and that there is no discrimination of any form in our workplace."
—Gordon van Welie
President & CEO
We're committed to an open, collaborative environment where all employees can be their full selves.
At ISO New England, we recruit and foster a diverse and inclusive workforce. Leveraging the diverse backgrounds, identities, and experiences of our employees is integral to our success and exists within our workplace through enrichment opportunities, companywide education initiatives and our Council for Diversity and Inclusion (CD&I).
Whether you're a member of our workforce, a stakeholder, or part of our broader community, we encourage a workplace community that is a strong representation of the region we serve. Together, we're working to impact New England for good by promoting equity for all.
Diversity and Inclusion in Action

CEO Commitment To Action
In 2019, CEO Gordon van Welie pledged to take part in the world's largest initiative to advance diversity and inclusion in the workplace, joining the growing coalition of nearly 2,000 corporate leaders across 85 industries by becoming a signatory to the CEO Action for Diversity & Inclusion program.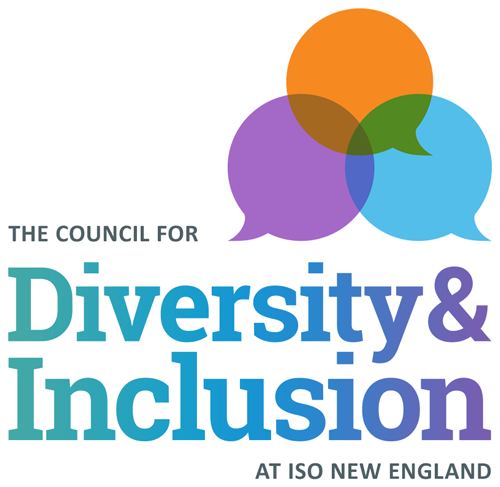 The Council for Diversity and Inclusion
The CD&I, established in 2020 by ISO's senior leadership, is a working group of ISO colleagues. Their charge is to suggest and implement actions for promoting diversity and inclusion within our workplace. The Council generates programming based on each member's unique ideas, fresh perspectives, and experiences. To further inclusive participation on the council, some members rotate off and new members join each year.
Our Staff and Diversity Recruitment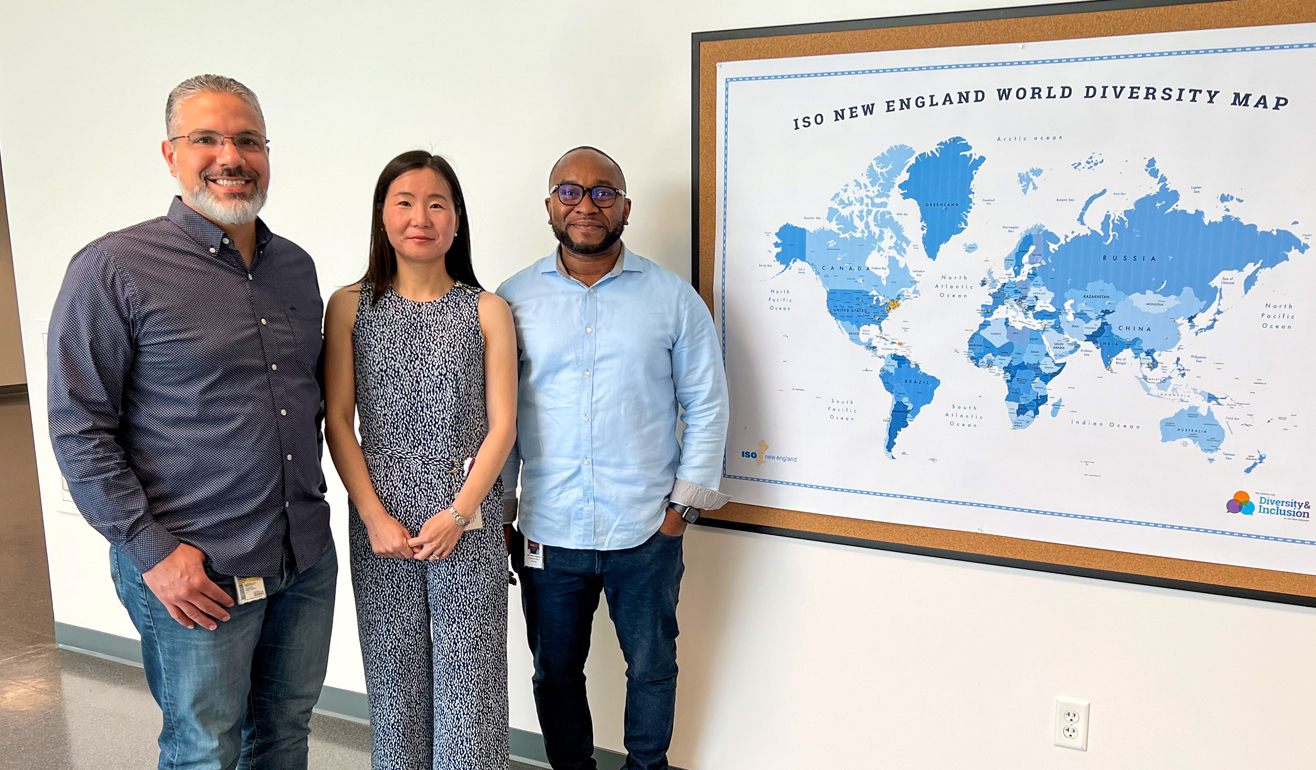 Lemuel Gonzalez, Jinye Zhao, and Edmund Amate, members of the 2022 Council for Diversity & Inclusion, gather near the ISO New England World Diversity Map. Close to 150 workforce members placed pins on the map indicating their countries of origin, providing a visual representation of the diverse countries represented at the ISO.
We're proud that our workforce is comprised of highly-educated individuals from across the globe, and we are committed to recruiting and fostering a diverse and inclusive workforce, recognizing that supporting a diverse, equitable, and inclusive work environment enhances employee morale and productivity. We encourage continuous learning, and more than half of the ISO workforce has achieved advanced degrees—Masters, Ph.D., and Juris Doctorate—predominately in the disciplines of engineering, economics, and information technology. Women represent approximately a third of our workforce, with 25% serving in leadership positions across the company.
Our recruitment programs seek out talent from multiple sources in support of our commitment to diversity, including those that attract women, minority, and veteran applicants. We seek to fill open positions and promote from within, as demonstrated by having filled more than 40% of our 2020 openings with internal candidates.
Check out our full-time openings and internships.