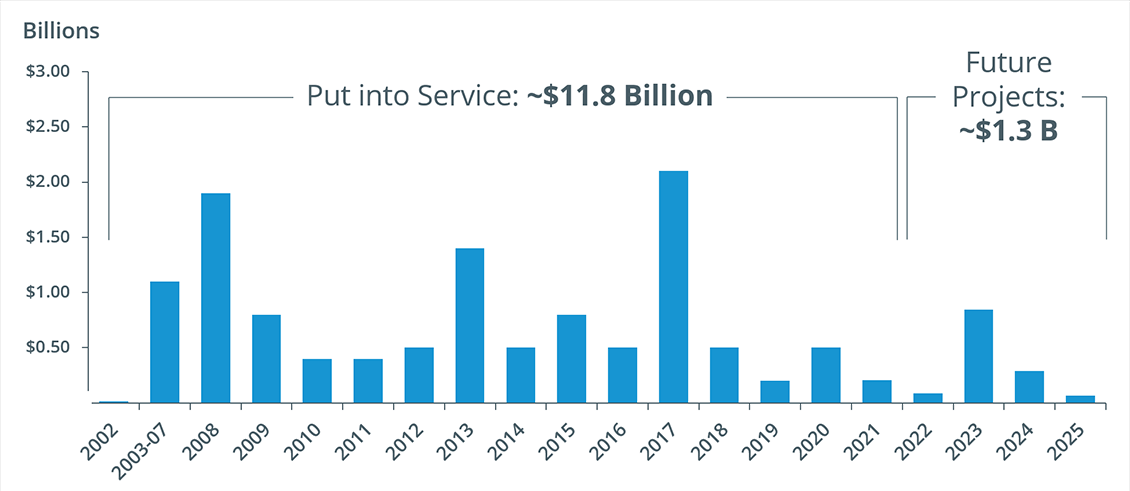 Improvements Have Lowered Energy Costs
Transmission system upgrades have nearly eliminated congestion costs in the New England energy market and, with the aid of low natural gas prices and other factors, have helped drive down and mitigate "uplift" payments to run specific generators to meet local reliability needs.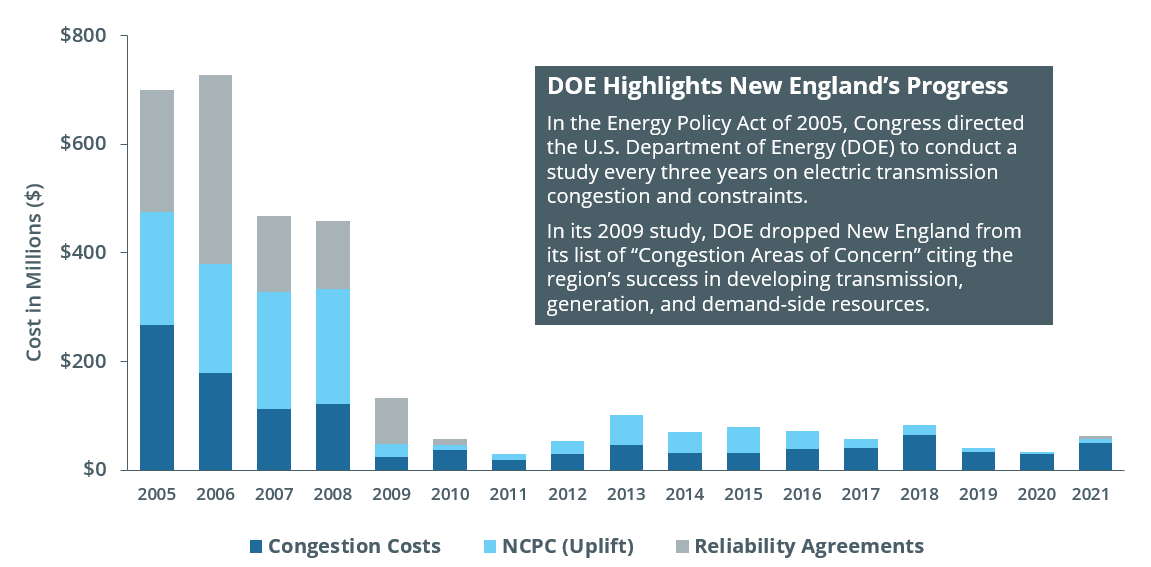 Region Will Need Investment in the Superhighway for Moving Clean Energy
Even with substantial investment made to modernize the transmission system and enable the free flow of low-cost power, additional transmission (and distribution) system upgrades will be needed to accommodate large amounts of diverse clean-energy sources—from large-scale offshore wind, remote Canadian hydropower, and hundreds of thousands of distributed solar and storage sources. Think of the grid as the superhighway for moving the clean-energy that ultimately will be fundamental to reliably converting millions of vehicles and heating systems in buildings to electricity.
Most of the wind power being proposed regionally would be offshore of Massachusetts, Rhode Island, and Connecticut, with most of the remaining proposals located onshore in Maine. (Historically, almost 70% of proposed new megawatts in the ISO Generator Interconnection Queue have ultimately withdrawn.) Read more about proposed new resources in the region.
Because of the large distances from some of the proposed onshore wind power projects to the existing grid, major transmission system upgrades will be needed to deliver more of this power from these remote, weaker areas of the system to far-away consumers. Proposed offshore wind projects closer to New England load centers may require fewer upgrades to the existing grid, but building wind turbines offshore is typically more costly than placing them on land.
ISO New England has no authority over siting processes or permits, and because of local opposition and other factors, transmission investments can take a long time to come to fruition in New England. To achieve decarbonization goals, the region must be proactive in developing infrastructure that aligns with supply growth and is available when needed. Regional coordination may not alleviate local opposition but may help make the siting process more successful.
Refining the Elective Transmission Upgrade (ETU) Process to Support State Efforts to Connect More Renewables
In 2015, the ISO improved its interconnection study process for elective transmission upgrades (i.e. not reliability-driven upgrades) and introduced new rules that ensure that renewable resources are able to deliver capacity and energy into the wholesale electricity markets. ETUs are transmission lines funded by private parties—not through regional cost-sharing. While not necessary from a reliability standpoint, they can help enhance generator deliverability or facilitate the integration of renewable resources, such as remote wind resources, by enhancing portions of the grid.
Today, private developers are competing in state procurements to build transmission projects that would enable the delivery of thousands of megawatts of clean energy, mostly from wind resources in northern Maine and hydro resources in Canada (not all proposed wind projects in New England would be delivered through ETUs). State procurement programs will be major deciders of which projects will move forward. Coordination of energy policy among multiple states is challenging, particularly when infrastructure needs to be built across state lines.
In 2017, the ISO implemented a new "clustering" methodology that enables interconnection requests from multiple generators and ETUs in the same area to be studied together. This is helping to advance the requests in areas such as northern and western Maine where thousands of megawatts of proposed new resources, mostly wind, are seeking to interconnect to the regional grid. It may also help generators save on interconnection costs.
Read more about the ISO's responsibility for long-term transmission system planning on the Power System Planning page.